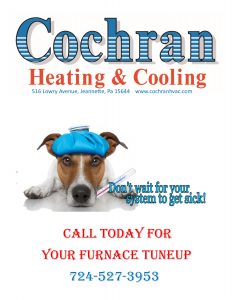 At Cochran, we offer complete heating and cooling services for both residential and commercial customers.
Located in Jeannette, PA, Cochran Heating & Cooling has been serving Westmoreland County for over 35 years. Whether you need a furnace repair, maintenance to your air conditioning, or a new HVAC installation, we meet your needs quickly, affordably, and reliably.
We value our customers and always put customer comfort and safety first! Our installers take care to keep your property neat and clean when doing service or repairs, no matter the weather outside. Our trained HVAC technicians ensure your air conditioning and heating systems are in top working order.
Hours of operation are Monday through Friday from 8 a.m. to 4 p.m., with Emergency Service available 24 hours a day, seven days a week. Visit our Repairs and Services page to learn more.
Call us today at 724-527-3953, or visit our Contact Us page.
Beyond Home Heating and Furnace Repair
At Cochran Hearing and Cooling, LLC, our certified technicians also assist with installing hot water and air quality systems designed for your health and comfort. We provide furnace and HVAC system inspections and offer experienced recommendations for heating and cooling upgrades designed to ensure the comfort and safety of your home or commercial property.
For over a quarter of a century, Cochran Heating & Cooling, LLC has been serving Jeannette, Greensburg, Latrobe, Irwin, and the surrounding areas.